Nothing Says Summer Like A Pool
Relax And Spend Time In Your Own Little Piece Of Heaven​
Luke Pool Service Can Handle Your Pool Headaches
Since 1996, Luke Norris has been working in the swimming pool industry. He got his start in the industry by working as a lifeguard, and has been passionate about pools ever since. Luke's strength is in caring for your pool, and his years of knowledge and experience have made him very well known throughout the Atlanta area. He has seen everything possible when it comes to swimming pools, from pools that are green swamps to pools that have serious issues due to improper construction.
From pool pumps to pool heaters, and everything in between, Luke Pool Service can handle any pool problem that you have. Luke spends countless hours each year attending trade shows and seminars in order to learn the best and newest methods of caring for your swimming pool.
As a pool owner, you don't want to deal with pool headaches. By trusting Luke Pool Service with all your pool needs, you can relax knowing that your pool is in great hands. Luke's knowledge and passion for swimming pools means that you can hand the problem over to us, and enjoy all the benefits of your swimming pool without any of the stress.
Pool Ownership is a Luxury
Everyone dreams of having a swimming pool in their backyard. But they don't dream of the costs associated with caring for one. By allowing Luke Pool Service to care for your pool, we can help with keeping those costs to a more predictable level.
The price for repairs and renovations can add up quickly when the pool is neglected and the water chemistry is not maintained. Having the eyes, hands, and ears of a pool professional will help you to keep your costs under control. We can spot a problem before it gets out of hand and even prevent a future problem from occurring.
We put our listening skills at the forefront of what we do. Our process is streamlined to get the best results with minimum effort from you.

Send us a few pictures of your pool and equipment. We'll get back to you fast and go over your needs and expectations, thoroughly and professionally.

After we've set up a plan and answered all your questions, we start working on your pool. You can relax knowing that you're informed about the whole process and that your pool is in trusted hands.

Leave the world behind and take some time for you and your loved ones. Get ready to enjoy a clean and healthy pool, your own paradise.
With more than 26 years of experience, certifications, and thousands of pools maintained and repaired, Luke Pool's mission is to create and maintain a clean, healthy swimming environment for you and your family.
Luke Norris, owner of Luke's Pools, along with his wife Marti, make it their top priority to understand your needs and provide an outstanding experience. We make sure you feel safe and confident that your pool is in the hands of top local professionals that you can trust.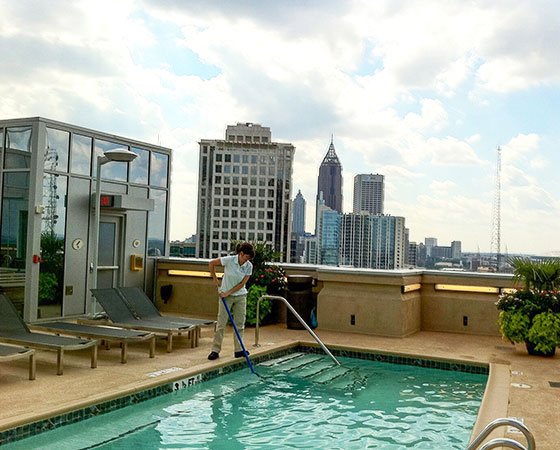 We take pride in the relationships we build with our customers. Their reviews speak for the quality of our work and encourage us to keep aiming for perfection.
Luke Pool Service is amazing.
I was impressed with their attention to detail, knowledge of their industry, quick response time, and friendly staff.
I would not hesitate to recommend them for any of your swimming pool maintenance needs.
Big thanks to Luke Pool Service for being incredibly responsive to our pool pump issue.
They were quick to help us figure out next steps all the way to the resolution.
We have used various pool companies and Luke Pool is the best.
He is very knowledgeable and accurate when we have problems with equipment needing to be replaced.
They do a good job.
Reclaim Your Time And Trust Your Pool To Professionals