Have A magazine-worthy pool you can be proud of
A Clean Pool, All Season Round
You've got that beautiful house with that gorgeous pool – but it doesn't maintain itself. A pool left untended is not a pleasurable sight (or smell) to anyone. That's where we come in.
We take care of your pool so that you can enjoy it to the fullest, with whoever you want, whenever you want.
Luke Pools does the work for you, so that you get a pool that is safe, looks good, and lasts longer.
Our maintenance services include, among others:
A Trustworthy Maintenance Team
With Luke Pools, you'll enjoy peace of mind knowing that your pool is handled by experts. Our staff will make you feel safe and reassured, as we always strive to send you the same person to do the maintenance.
You'll also be kept informed via messages and pictures about the status of the maintenance.
You won't have to stress about whether your pool is presentable in order to have people over, or if the water is clean enough to get in.
Save time and money as we proactively check your equipment for imminent failures, and inspect your overall pool health.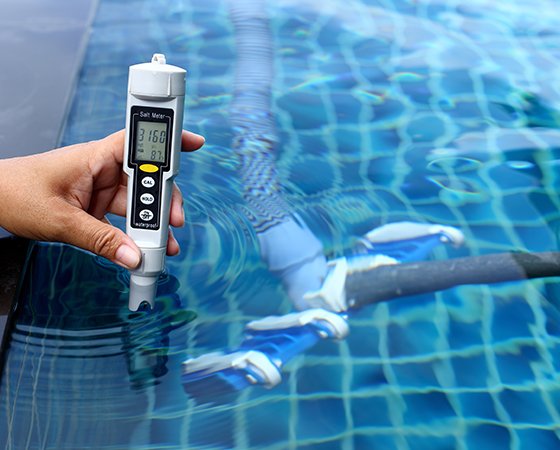 We put our listening skills at the forefront of what we do. Our process is streamlined to get the best results with minimum effort from you.

Send us a few pictures of your pool and equipment. We'll get back to you fast and go over your needs and expectations, thoroughly and professionally.
After we've set up a plan and answered all your questions, we start working on your pool. You can relax knowing that you're informed about the whole process and that your pool is in trusted hands.

Leave the world behind and take some time for you and your loved ones. You can now enjoy your clean, healthy, breathtaking pool. Welcome to your own paradise.
*Prices are for residential pools and are averages. They may change depending on your location, the size and features of your pool and the type of chemicals needed. You'll receive an exact quote for your unique pool after the in-house consultation.
We take pride in the relationships we build with our customers. Their reviews speak for the quality of our work and encourage us to keep aiming for perfection.
Having Luke Pool Service help with your pool will be the BEST investment you can make!
I've tried other services in the north metro area, which led to frustration and a bit of disappointment at times. Luke has been maintaining and improving my pool for the past year and it has been a true stress reliever!
They are very responsive and extremely knowledgeable…I'm looking forward to enjoying my heated, salt water pool with no hassle; Thanks to Luke and team!
Luke's Pool Service is simply the best.
Our pool has been in top-notch condition since we switched to Luke about a year and a half ago. We do weekly service and wouldn't have it any other way!
Luke and his entire staff are professional and incredibly responsive. Highly recommend!
Luke Pool Service has been maintaining our pool for about three years. I heard of them through my trusted neighbor, and I'm very glad.
Our pool used to be a regular chlorine one, and we were always fighting algae and murkiness. Since Luke switched us over to a heated saltwater pool, the water has been clear as a bell and utterly delightful.
I would not hesitate to recommend Luke Pools to anyone wishing their pool was clear and free of chronic problems. Luke has made our outdoor living a pleasure.
Ready To Have Your Pool Sparkling All Year Long?